It can be difficult to design a small office space. Making the most of a small workspace is essential for a successful working space, whether running a startup company or sharing a coworking space. When dealing with small spaces, it's critical to make the most of each inch of available area while establishing a cozy and practical atmosphere.
To make the most out of the small working space, there are several ideas and approaches to be carefully thought of. To maximize the use of available space the given site conditions and design approach should be complimenting rathe rather than be different from each other.
USAGE OF LIGHT COLOR PALETTE
Using light colors in a small space will create a larger space in experience and be brighter. Opting for light colors for walls will enhance the overall space and there will be room for experimenting with furniture too. Apart from using dark furniture, using light-colored furniture will create an engaging work atmosphere.
When using the light colour theme for interiors there are several points to be looked upon. Starting with picking a color that will serve as the foundation of the design approach. Light gray or white are good choices. These colors will contribute to a modern, clean aesthetic that enlarges the impression of space in the office.
Apart from light grays or whites soft blues, greens, pinks, and yellows are examples of light pastel colors that can provide a pop of color to the room without overpowering it. These hues are ideal for furniture, accent walls, and ornamental accents.
Additionally, refrain from overusing patterns or colors in the design. Use patterns sparingly and stick to a basic color scheme. This will contribute to a streamlined and unified appearance.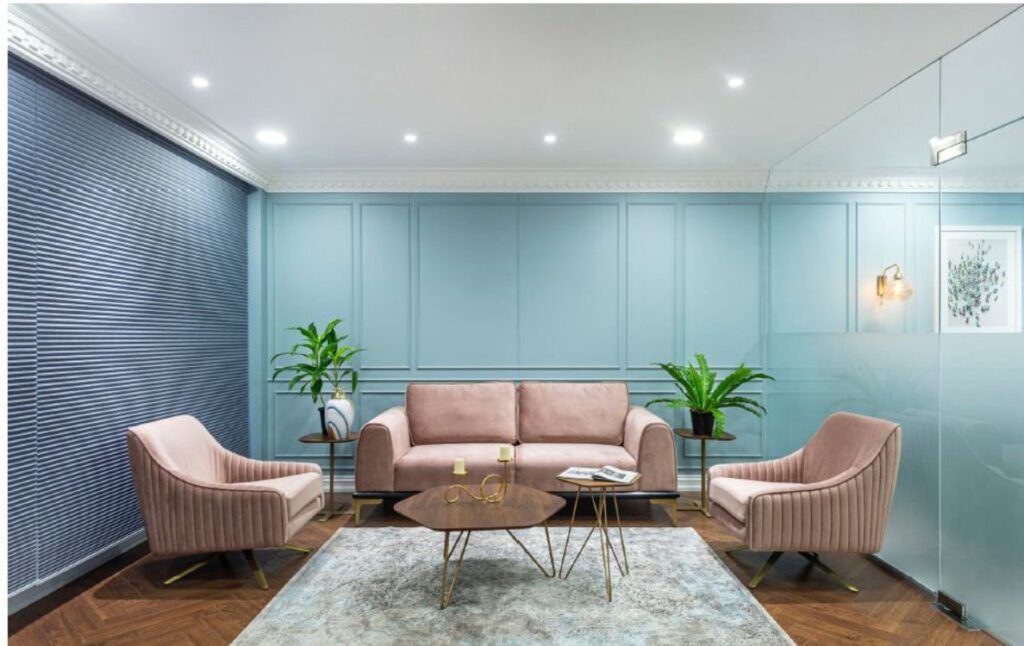 The above image of office space in Bharuch, India is inspired out of winter colors creating a calm and peaceful office work environment. The project is by P and D Associates. The simple color scheme consists of a mix of turquoise, green, and solid gray with touches of brass finish. The muted flooring patterns add a subtle touch of class to the area. A calming color scheme maintains the office's overall enticing vibe while fostering a Zen atmosphere.
USE MULTI-PURPOSE FURNITURE
Making the most of every square inch is crucial in a small office environment. Using multi-functional furniture is one method to do this. One of the ways is using a desk with built-in storage. In a tiny office, a desk with built-in storage is a wonderful solution to save space. Seek a desk that has cupboards, shelves, or drawers to store documents, office supplies, and other things. This releases important floor space by doing away with the requirement for a separate storage unit.
The second is to use a foldable table. In a tiny office, a foldable table might be a useful feature. It may be folded up and stored when not in use to clear up floor space. It may be foldable and utilized as a meeting table or workspace when needed.
Using an ottoman with storage is also an example of incorporating multi-functional furniture to make more of the space in a limited office workspace. An ottoman with storage can be used as a seat as well as a shelf. Seek for an ottoman that has a cover that can be removed to expose a storage space within. This can double as extra seating for visitors or clients and a perfect location to store excess office supplies or files.
The use of furniture as needed and to use of the maximum of the available space requires a lot of effort. The project has used the maximum of the available space and tried to create an efficient working environment.
INCORPORATING NATURAL LIGHT
Installing skylights or huge windows is one of the best methods to let natural light into a small office. The room looks lighter, airier, and more welcoming when natural light floods the area. The result will be that it will boost output and improve the work environment for staff members.
Natural light has aesthetic advantages, but it can also save energy usage by reducing the demand for artificial lighting. This may result in a more sustainable workplace and lower energy expenses.
The pre-school office in the above photograph located in Pune, India is a project by the firm Mind Manifestation. Here, the strategy is used to set up a few workstations with different seating options in a humorous manner and provide the intended result. The preschool is surrounded by a bustling area and situated between a well-known restaurant and Tech Park on one side. The idea makes extensive use of the abundant natural light that the site is endowed with. The rooftop was transformed into a permanent place by the design.
MINIMAL APPROACH TO DESIGN
In a small space, a minimalistic design can be very effective and progressive. To have a workstation uncluttered, simply keep the furniture and accessories that are essential required.
Minimalism is about a strong emphasis on utility, simplicity, and the usage of only necessary components. This method works especially well for small office design since it may help bring peace and spaciousness into otherwise congested or packed spaces.
The first step in achieving minimalism in small office design is to tidy and clear the area. Eliminate any extraneous furniture or accessories that take up room and detract from the overall appearance. Select multipurpose pieces that fulfill multiple functions, such as a desk that can double as storage, and only keep what is necessary. The project by Meraki Architecture is located in Pune, India.
The design focuses on the innovative use of a variety of recycled materials, such as MS sheets and agro wood, restored wooden furniture, light fixtures, and more, to mix in with a contemporary minimalistic and rustic design approach without sacrificing the sturdy appearance and feel. By deliberately arousing the sense to absorb and react to everything around it, without any hierarchy, the designer aimed to create an environment that draws forth the finest performance from people using it.
Know more about Small Office Interior,