Cool parking building facade design examples: Apparently, Miami is hell-bent on being home to the entire world's coolest parking garages. It's already famous for 1111 Lincoln Road, a landmark gem by Swiss firm Herzog de Meuron that hosts fashion shows, music videos, orchestral performances and interactive art installations in addition to parked vehicles. Arquitectonica's Ballet Valet garage is world-renowned for its lush greenery. Then there's the City View Garage in Miami's Design District, which boasts four different designs on each of its four facades.
Multi-storey parking building facade design examples
Now, a garage facility that looked a little too wacky to be real in its initial renderings is complete, and it's really something else. Let's see the best of all,
Parking building facade design Ant Farm by WORKac
Ant Farm by WORKac – Inspired by the shape of an ant colony, the structure features spaces that connect, yet appear and disappear behind a perforated metal screen. This facade also includes "Dippin," a street art panel by New York artist Jamian Juliano-Villani.
Garage building facade design XOX (Hugs and Kisses) by J.MAYER.H.
XOX (Hugs and Kisses) by J.MAYER.H. –  Gigantic interlocking puzzle pieces nestle at the corner with the forms of WORKac's façade. Just two blocks away from the City View Garage, the new Museum Garage is open after two years of planning and construction.
Five architecture and design firms designed five radically different facades for the structure: Nicolas Buffe, Clavel Arquitectos, J. Mayer H., WORKac and Keenan/Riley. Standing seven stories tall and capable of holding 800 cars, the surrealist garage is a colorful mashup of shapes and styles.
New museum garage facade design by Serious Play by Nicolas Buffe
Serious Play by Nicolas Buffe – The actual entrance and exit to the parking garage this facade features a variety of diverse 2D and 3D elements crafted from laser-cut metals and fiber resin plastic. Architect Terence Riley 'curated' the facade designs for DACRA and LVMH, and says he describes the impact of the garage as "a bucket of cold water.
It's shocking, but also refreshing, especially in steamy South Florida. A sense of a cohesive whole wasn't really a priority – each of the five designers worked on their individual segments without seeing what others were creating.
Cool parking building elevation design Urban Jam by Clavel Arquitectos
Urban Jam by Clavel Arquitectos – Fitting for a garage, this facade features shiny metallic gold and silver car bodies, to represent the revival of the Miami Design District and how spaces, like the cars, have been re purposed.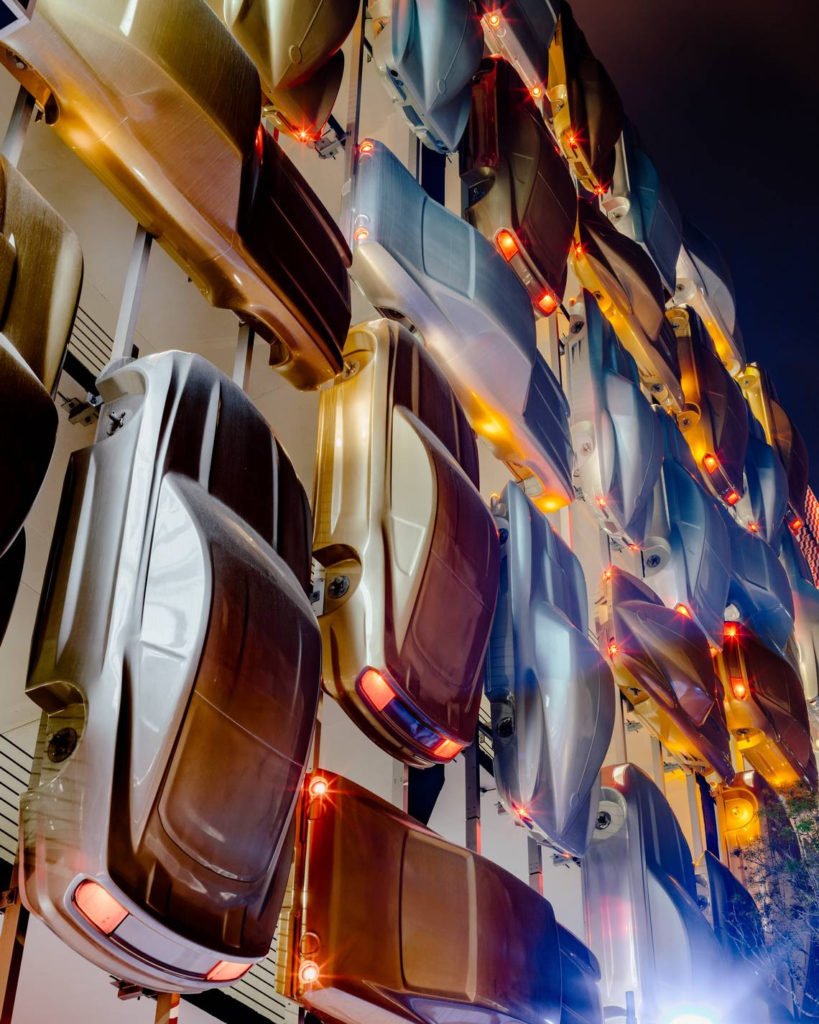 Riley says he drew inspiration from an old Surrealist parlor game called Exquisite Corpse, in which one artist draws a head on a piece of paper, folds it to hide what they've drawn and passed it to the next artist to draw another segment of the body. Nobody sees it as a whole until the final part is complete.
Modern parking lot facade system Barricades by K/R
Barricades by K/R – The design is inspired by orange- and white-striped traffic barriers that are ever present in Miami. The facade has fifteen "windows" framed in mirror stainless steel. Through which concrete planters pop out above the sidewalk.
The garage is located on the corner of NE 1st Avenue and NE 41st Street. In addition to offering public parking at a reasonable rate of $3 for 4 hours. The facility includes mixed-use spaces on the ground level. Fittingly, it faces the new Institute of Contemporary Art Miami.
Ref.  via the Miami Design District